Features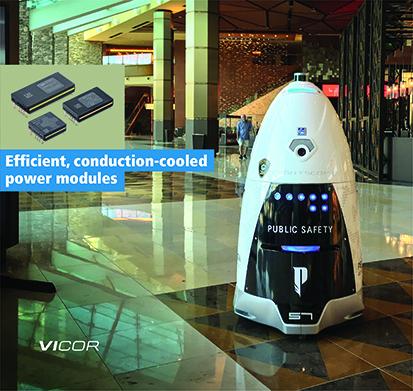 Knightscope's autonomous security robots patrol with superhuman acuity and detection prowess - May 2023
A fusion of innovative robotics, self-driving technology, vehicle electrification and artificial intelligence
More details...
AC/DC power factor correction module offers up to 1,512W
A full brick package developed by TDK-Lambda, the PF1500B-360, is for high voltage distributed power architectures
More details...
Power Electronics Europe News
Slimmed down wireless power receiver harvests RF energy
P
owercast has introduced the PCC114 for its Powerharvester chipset, which comprises a wireless power receiver chip and PCC210 boost converter IC. It is designed for embedding in space-constrained consumer designs like smart cards or hearing aids.
It has a wide RF operating power range (-17 to 20dBm) and frequency (10MHz to 6GHz) range. According to the company, the Powerharvester PCC114 converts RF to DC with up to 75% efficiency, harvests from all modulation types, works with standard 50Ω antennae. It is RoHS-compliant.
The company reduced the size of its PCC110 receiver chip, which has been deployed in industrial and commercial wireless power systems to create a receiver with a footprint of just 1.0 x 0.6 x 0.3mm, or seven times smaller than the PCC110 (2mm x 2.1mm x 0.9mm). It also has 20 times less volume, for use in compact, wirelessly-powered devices.
The receiver is embedded in a device and harvests the RF energy sent over the air from either an "intentional" or "anticipated" RF source, then converts it to DC.
An intentional RF source is an RF transmitter in the home, office, public place or industrial setting, like the company's PowerSpot. Anticipated RF sources, such as UHF RFID inventory readers or NFC PoS readers, could charge devices at the interaction point. The Powerharvester chip can harvest energy from the RF source at close range to power the device and enable contactless transactions.
Wireless power harvesting recharges smart cards, fingerprint sensors, e-paper displays or cards for door access or transport, while they are in use, so they can offer power-hungry features without risking downtime through lack of a charge.
View PDF