Features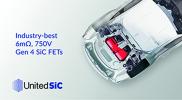 A New Approach to Circuit Breaker Design Using Silicon Carbide Switches - Nov 21
Mechanical circuit breakers can be low cost with minimal losses, but they operate slowly and wear out. Solid state versions overcome the problems and are becoming increasing viable as replacements at...
More details...
Power Electronics Europe News
Qualcomm to Acquire Dutch NXP Semiconductors
On October 27, 2016, Qualcomm Incorporated and NXP Semiconductors N.V. announced a definitive agreement, under which Qualcomm will acquire by all of the issued and outstanding common shares of NXP for $110.00 per share in cash, representing a value of approximately $47 billion. After Infineon/IR, ADI/Linear/OnSemi/Fairchild and Renesas/Intersil this is the latest deal in the consolidating chip industry.
As a leading semiconductor solutions supplier to the automotive industry, NXP has leading positions in automotive infotainment, networking and safety systems, with solutions designed into 14 of the top 15 infotainment customers in 2016. "Qualcomm has played a critical role in driving the evolution of the mobile industry. The NXP acquisition accelerates our strategy to extend our mobile technology into robust new opportunities," commented Qualcomm's CEO Steve Mollenkopf this deal. "The combined company is expected to have annual revenues of more than $30 billion, and serviceable addressable markets of $138 billion in 2020". "United in a common strategy, the complementary technologies and the scale of our portfolios will drive innovation and will bring opportunities for our employees and customers, as well as provide immediate attractive value for our shareholders, in creating the semiconductor industry powerhouse", said NXP's CEO Rick Clemmer.
"The merger would represent the union of the traditional automotive world with the new frontier, driven by connectivity and needs for high processing power. NXP's strength, also through acquisition of Freescale, is the reliability and quality standards required in automotive. On the other hand Qualcomm brings its expertise in the connectivity and artificial intelligence applications", commented IHS analyst Ahad Buksh in a first note. "Qualcomm would take best advantage of NXP's dominant position in the automotive supply chain. Its combined automotive revenue for 2015 is estimated at $3.7 billion, $1 billion more than Infineon, the second largest". Qualcomm would take best advantage of NXP's dominant position in the automotive supply chain. Its combined automotive revenue for 2015 is estimated at $3.7B ($1B more than Infineon, the second largest). Today, traditional automotive suppliers are compelled to scale down the technology nodes because of high-performance processing at low power consumption. However, the ROI is too low in automotive. Through the merger, NXP can leverage Qualcomm's ROI from other industries to invest in new mask sets. AS
www.qualcomm.com, www.nxp.com, www.ihs.com