Features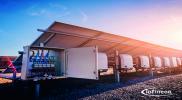 Benefits of CoolSiC MOSFETs in Bi-Directional Inverter Applications - July 2021
With the move to renewable energy, there is an increased focus not only on generation but also storage, to make the most of the intermittent supply from wind and solar. Batteries are the common...
More details...
Power Electronics Europe News
The TMDC series by Traco is a range of fully encapsulated low profile DC/DC converter modules, now available from Powersolve....
Able to drive MOSFETs, IGBTs and GaN power devices, the 1EDN EiceDriver gate driver IC is compatible to the industry standard...
Developed for the latest Intel processor, a PMIC reduces power consumption in a small form factor, says Rohm Semiconductor....
Believed to include the first digital multi-phase PWM controllers with AVSBus, 12 controllers have been announced by Intersil...
Efficient Power Conversion (EPC) and JJPlus will collaborate on the design of wireless charging designs....
Qualcomm invests $4.7 billion primarily for automotive...
The automotive-grade ISL76534 enables bright, high-contrast LCDs, says Intersil, with low power and gamma calibration....
A new reports shows that the increased use of renewables has led to an unprecedented change in energy supply....
The AP3301 quasi-resonant (QR) PWM controller offers protection and reliability in power adapter applications, says Diodes....
Non-isolated mono block converters are available from Murata in two models, a 6A and a 20A version....