Features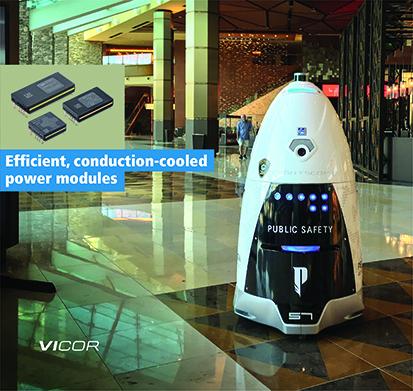 Knightscope's autonomous security robots patrol with superhuman acuity and detection prowess - May 2023
A fusion of innovative robotics, self-driving technology, vehicle electrification and artificial intelligence
More details...
AC/DC power factor correction module offers up to 1,512W
A full brick package developed by TDK-Lambda, the PF1500B-360, is for high voltage distributed power architectures
More details...
Power Electronics Europe News
There are 25 new DC/DC converter modules (DCMs) now available in the DCM Chip family from Vicor....
The STEF01 programmable fuse extends fast-acting overload protection to applications at higher power ratings....
The TLX9309 analogue output IC photocoupler enables high-speed communications capability in automotive applications....
Quarter brick modules from Murata address the power requirements of networking and telecomms infrastructure equipment....
Rohm claims that its LMR1802G-LB op amp features the lowest noise level in the industry for high accuracy sensing....
Addressing emerging applications, the AD242x Automotive Audio Bus transceivers have been enhanced by Analog Devices....
Vishay Intertechnology has expanded its power modules available in the SOT-227 package with seven new devices....
Alpha and Omega Semiconductor says its 25V technology in the XSPairFET leadless package sets a new standard for power density...
Dual-Core Digital Signal Controller Enables Separate code Design for Digital Power and Drives ...
Isabellenhuette turns a long known metallurgy compound into reality for regenerating waste heat into electrical power. ...