Features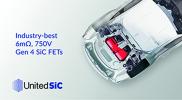 A New Approach to Circuit Breaker Design Using Silicon Carbide Switches - Nov 21
Mechanical circuit breakers can be low cost with minimal losses, but they operate slowly and wear out. Solid state versions overcome the problems and are becoming increasing viable as replacements at...
More details...
Power Electronics Europe News
Collaboration to accelerate AirFuel Alliance wireless charging
Following the adoption of the AirFuel Alliance's resonant wireless charging standard by the Taiwan Association of Information and Communication Standards (TAICS), the California-based EPC, and Taiwan's JJPlus have announced their design collaboration for wireless charging designs.
The collaboration will result in the design of GaN-based wireless power solutions, which will be applicable for wireless charging systems worldwide.
A letter of intent signed by the AirFuel Alliance and TAICS, focuses on establishing a wireless charging ecosystem in Taiwan through the introduction of AirFuel's resonant technology standard. Jeff Shu, general manager, JJPlus said: "We are excited to partner with EPC in the design and implementation of innovative wireless power solutions. Our collaboration is in direct support of TAICS/AirFuel's initiative in their launch of public wireless charging spots at coffee shops, airports or hotels. We look forward to employing EPC's leading GaN technology and working with their expert teams, who work closely with WiTricity [which holds patents for wireless transfer, based on resonant technology], to take a leadership position in this fast-growing market."
Alex Lidow, EPC CEO and co-founder, added: "Our eGaN technology has been supporting the wireless charging market development with our business partners and customers worldwide for over three years. . . With the introduction of AirFuel's resonant technology in Taiwan's wireless charging ecosystem, the adoption of wireless charging applications will be accelerated, further fuelling the overall expansion of the GaN power market."
View PDF