Features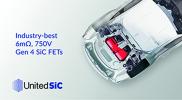 A New Approach to Circuit Breaker Design Using Silicon Carbide Switches - Nov 21
Mechanical circuit breakers can be low cost with minimal losses, but they operate slowly and wear out. Solid state versions overcome the problems and are becoming increasing viable as replacements at...
More details...
Power Electronics Europe News
PMIC is optimized for Intel Apollo Lake architecture
PM
Tablets and cloud books using the latest Intel processor architecture demand lower power consumption and thinner, smaller form factors, says Rohm Semiconductor, at the launch of its BD2670MWV power management integrated circuit (PMIC).
The PMIC supplies all power supplies required by Intel Apollo Lake platforms, while contribuing to lower power consumption, says the company. It is in a compact UQFN package, measuring 8.0 x 8.0mm that reduces the number of components by 38% and mounting area by 33% over conventional, discrete configurations, says the company.
A power control logic function controls and analyses the internal PMIC conditions and accesses the register through an I2C interface.


View PDF