Features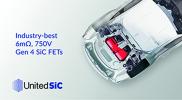 A New Approach to Circuit Breaker Design Using Silicon Carbide Switches - Nov 21
Mechanical circuit breakers can be low cost with minimal losses, but they operate slowly and wear out. Solid state versions overcome the problems and are becoming increasing viable as replacements at...
More details...
Power Electronics Europe News
Gate driver IC is drop-in replacement for EV charging stations
The single-channel gate driver IC's pin-out and packages are compatible to the industry standard and are drop-in replacement for existing designs, says Infineon. Target applications are telecomms and industrial SMPS, DC/DC converters, PFC in EV charging stations, AC power tools, UPS, air conditioning and fans. The family also supports wireless charging applications.

The low-Ohmic output stages increase efficiency by over 30%, compared to conventional single-channel gate driver ICs, says the company.

The outputs feature what the company claims is an industry-leading reverse current robustness of 5A. This eliminates the need for protection diodes when driving MOSFETs with large parasitic source inductances typically found in TO-220 or TO-247 packages. This can save both bill of material and PCB area, say the company.
The portfolio has a -10V input robustness for a safety margin against ground-shifts when driving gate-transformers. This protects against electrical over-stress of the inputs or latch-up of the driver IC. Variants of the 1EDN EiceDriver includes devices with separate source and sink output terminals for turn-on and turn-off speed optimization, concurrently saving one external diode.
View PDF