Features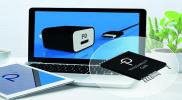 GaN-based switcher ICs empower next-generation power products - issue 1/2020
There have been a number of disruptive advances in the power electronics community over the last 20 years....
More details...
Linear voltage regulators operate at automotive temperatures
Designed for high reliability, high temperature applications, the CMT-Antares is Cissoid's latest regulator.
More details...
Power Electronics Europe News
EMC feed-through capacitors are for filtering
They have been developed specifically for EMC feed through filtering applications. Four styles are available, with rated voltages from 63 to 1500V DC; up to 660V AC and testing to Y class voltage withstand requirements. Operating with currents from 5A to 600A and with connections from M3 to M20, the company also offers sub-assembly and full filter assembly at highly competitive rates.
View PDF