Features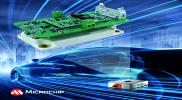 Evaluating Three Key Pieces of a SiC Total System Solution - October 2020
Following a rapid expansion of SiC product options, the industry's next challenge is simplifying the design-in process for end users. Power system developers need holistic solutions that address not...
More details...
Linear voltage regulators operate at automotive temperatures
Designed for high reliability, high temperature applications, the CMT-Antares is Cissoid's latest regulator.
More details...
Power Electronics Europe News
Analysts from IHS notes the show's growth in size and the reaction of silicon vendors to the emergence of SiC and GaN....
Two DIN-rail power supplies, available from Dengrove Electronic Components, offer a seven-year warranty....
Intersil's new ISL 8117 supports direct conversion 48/1 V ...
The BPA 2015 goes to Infineon and will be handed over on May 19 on occasion of the official opening ceremony...
Three buck-boost regulators have been added to the Cool-Power ZVS PoL regulator based on ZVS technology....
Ericsson has introduced a DC/DC converter module based on its Hybrid Regulated Ratio (HRR) technology. ...
An IXOLAR solar panel, the SLPN005H10L, can power portable equipment, via an integrated USB port. ...
Market Forum at PCIM Europe will discuss technology's impact on the market....
Cree believes that its latest MMIC (monolithic microwave integrated circuit) has the highest power Ku-band available....
At this year's PCIM Europe, SMP Sintermetalle Prometheus GmbH (SMP), will present magnetically coupled components. ...