Features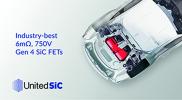 A New Approach to Circuit Breaker Design Using Silicon Carbide Switches - Nov 21
Mechanical circuit breakers can be low cost with minimal losses, but they operate slowly and wear out. Solid state versions overcome the problems and are becoming increasing viable as replacements at...
More details...
Power Electronics Europe News
Two MOSFETs are compact for automotive use
The 60V SSM3K341R and the 100V SSM3K361R are qualified according to the AEC-Q101 standard. They are suitable for use in power management, including DC/DC converter or load switch applications for electronic systems in vehicles.
Increased industry demand for power-saving LEDs has seen growth in requirements for the n-channel MOSFETs that are used as switches for LED drivers. These small-package MOSFETS from Toshiba Electronics E, uropeaddress RDS(ON) ratings (at VGS 4.5V) of 36mΩ and 65mΩ respectively. Both devices support a maximum channel temperature of 175°C, for a range of automotive applications.
The MOSFETs reduce heat dissipation resulting from turn-on losses by approximately 65% against the company's previous products. They are housed in compact SOT-23F flat lead type packages to reduce PCB footprint by approximately 64% compared to a conventional SOT-89 package, while maintaining a maximum level of 2.4W power dissipation.
View PDF