Features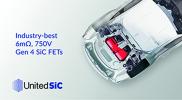 A New Approach to Circuit Breaker Design Using Silicon Carbide Switches - Nov 21
Mechanical circuit breakers can be low cost with minimal losses, but they operate slowly and wear out. Solid state versions overcome the problems and are becoming increasing viable as replacements at...
More details...
Power Electronics Europe News
DC/DC converters are optimised for SiC applications
The RKZ-xx2005D and RxxP22005D can power silicon-carbide (SiC) MOSFET drivers in electric vehicles (EVs), renewable-energy conversion, and high-power industrial drives.

The converters are claimed to have superior isolation, providing up to 4.0 or 5.2kV DC to ensure long-term safety in the presence of high potential differences between control and power circuitry in SiC-MOSFET applications.

By providing asymmetrical 20/-5V outputs, the converters enable the gate driver to apply optimal turn-on and turn-off voltages.

As unregulated 2W converters, the RKZ-xx2005D and RxxP22005D's power-sharing outputs can be used with equal-power (asymmetrical current) or equal-current (asymmetrical power) loads.

Both operate at up to 85% efficiency, and are available with input voltages of 5.0, 12, 15 or 24V. Operating range is -40 to 100°C (with derating). They also have UL60950 and IEC/EN60950 certification, and comply with RoHS2 and REACH. They are also covered by the manufacturer's three-year warranty.
View PDF