Features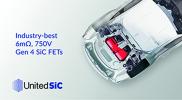 A New Approach to Circuit Breaker Design Using Silicon Carbide Switches - Nov 21
Mechanical circuit breakers can be low cost with minimal losses, but they operate slowly and wear out. Solid state versions overcome the problems and are becoming increasing viable as replacements at...
More details...
Power Electronics Europe News
Digital LED driver ICs reduce flicker
The XDPL8220's primary side control saves extra components, and also reduces cost and increases reliability, claims Infineon Technologies.
The two-stage architecture eliminates the low frequency variation from the mains supply and guarantees a stable output. The low stand-by power facilitates permanent operation of the electronic control gear, and standby power of less than 70mW reduces power consumption in the non-active mode.
Control algorithms make it possible to realise lighting for constant current or constant voltage mode in the same circuit. The driver provides a comprehensive set of parameters for adjusting the operating constraints, enabling it to be adapted to the target application.
Samples are available now, with production in January 2017.
View PDF