Features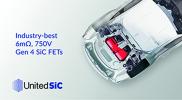 A New Approach to Circuit Breaker Design Using Silicon Carbide Switches - Nov 21
Mechanical circuit breakers can be low cost with minimal losses, but they operate slowly and wear out. Solid state versions overcome the problems and are becoming increasing viable as replacements at...
More details...
Power Electronics Europe News
Rail-to-rail comparator is small enough for wearable devices
The footprint that is less than 1.0mm2, says the company. The chip-scale package (CSP) measures 0.8 x 1.2 x 0.52mm, suitable for use where space is a premium, such as smartwatches, as well as smartphones, IoT devices, digital cameras, and portable test equipment.

The device operates from a supply voltage as low as 1.8V. This allows it to be used in systems powered from a single cell as well as those designed to operate from low voltages. Typical operating current of 14µA also helps to minimise drain on the battery. A typical propagation delay of 300ns ensures rapid response to fast-changing analogue signals. ESD tolerance is 2kV HBM / 200V MM.
View PDF