Features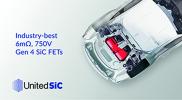 A New Approach to Circuit Breaker Design Using Silicon Carbide Switches - Nov 21
Mechanical circuit breakers can be low cost with minimal losses, but they operate slowly and wear out. Solid state versions overcome the problems and are becoming increasing viable as replacements at...
More details...
Power Electronics Europe News
IC saves space and reduces acoustic noise in motion control
It is claimed to minimise vibration and acoustic noise
in high-speed motion control designs

, as well as

reduce power consumption and lower heat dissipation. It is designed for use in applications such as surveillance cameras, ATMs, office automation equipment, factory automation and home appliances.
The integrated chip delivers a two-channel drive function, capable of running two stepping motors simultaneously. This frees up board space to reduce the size of th end product. The driver can simultaneously drive two channels via a low maximum on resistance of 0.6Ω. This is a reduction of 50% compared to previous products, claims the company, and cuts heat generation.
The IC can stop the regulator at standby using a sleep function, to consume less power. As well as driving the stepping motors, it can provide an interface for driving brushed DC motors, for example, one channel for the stepping motor, and two channels to run brushed DC motors.
High-resolution motor driving of quarter steps (maximum) and a decay mode switching function for constant current control reduce vibration and noise, says the company. Built-in error detection features include a thermal shutdown circuit and an over-current shutdown circuit to provide enhanced reliability and safety.
The IC is housed in a compact QFN package that measures 7.0 x 7.0 x 0.9mm.
View PDF