Features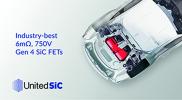 A New Approach to Circuit Breaker Design Using Silicon Carbide Switches - Nov 21
Mechanical circuit breakers can be low cost with minimal losses, but they operate slowly and wear out. Solid state versions overcome the problems and are becoming increasing viable as replacements at...
More details...
Power Electronics Europe News
EPC at PCIM Digital Days 2021
The 400W motor drive demonstration power board has three independently controlled half bridge circuits, the EPC2152 monolithic ePower Stage single chip driver, 80V maximum device voltage, 15A (10A RMS) maximum output current. The board demonstrates the ePower Stage's capabilities for higher performance, quieter, smaller, low cost brushless DC (BLDC) motors, says the company.
The EPC9146 power board can operate under full load with PWM frequency up to 3MHz. The inverter board measures 81 x 75mm and achieves greater than 98.4% efficiency at 400W output power.
The EPC9146 can be paired with individually designed mating boards. This allows the user to control the power board directly through a variety of mainstream microcontroller boards. The use of existing resources can accelerate development, points out the company.
The EPC9146 can be configured to support three-phase motor drives for robotics, drones, e-bikes, e-scooters, multi-phase interleaving buck converters and full-bridge converters.
According to EPC's CEO, Alex Lidow, eGaN FETs and ICs "provide the fast switching, small size, and low cost needed to further reduce the size and weight of BLDC motors, reduce audible noise, improve torque for faster reaction times, and increase efficiency".
"The EPC9146 is an ideal example of the capabilities of the . . . . EPC2152, to expand the application areas that can take advantage of the design simplification and performance improvements that GaN offers," he added.
The EPC9146 demonstration board is available now. The EPC9146KITA is also available. It includes the microcontroller mating board featuring Microchip's dsPIC33EP-MC digital signal controller (DSC).
Both are available for immediate delivery from distributor, Digi-Key.
View PDF