Features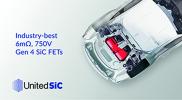 A New Approach to Circuit Breaker Design Using Silicon Carbide Switches - Nov 21
Mechanical circuit breakers can be low cost with minimal losses, but they operate slowly and wear out. Solid state versions overcome the problems and are becoming increasing viable as replacements at...
More details...
Power Electronics Europe News
Rohm adds 10W GMR320 and introduces PSR series for 15W operation
The GMR320 is the latest addition to the company's GMR series
for high power applications in the automotive, industrial equipment and home appliances.

The 10W device's resistance value ranges from 5mΩ to 100mΩ, suitable for automotive engine ECUs and headlamps in vehicles. In industrial equipment, it is suitable for factory automation equipment, motor peripheral circuits, power supplies. It is also suitable for a range of domestic appliances, such as air conditioners, washing machines, refrigerators and vacuum cleaners.
The resistors are constructed using optimised material which allow the GMR320 series to reduce surface temperature rise by 23 per cent over standard products, ensuring high ruggedness against overcurrent load, says Rohm, even though it has the smallest size among 10W class resistors in the market. The design also includes a high-performance metal alloy of the resistive material provides low temperature co-efficient of resistance (TCR) for reliable current detection even in the low resistance values.
The PSR series can be used as high power shunt resistor, with maximum rated power increased by up to 15W. The TCR value is also enhanced with a terminal temperature derating method, explained Rohm. Resistance ranges from 0.1mΩ to 3.0mΩ and the compact package contributes to miniaturisation in automotive and industrial applications, said the company.
The resistors are suitable for a range of automotive uses, for example, electric power steering, electric compressors and DC/DC converters. For industrial equipment, they can be used in photovoltaic (PV) inverters and power tools.
The company has announced that it will make thermal simulation models available from October this year. These can be used for pre-design simulation, even in high power applications where thermal design is particularly difficult, said Rohm. The models reduce design man-hours "considerably" according to the company.

Both the GMR320 and PSR resistor series are qualified to AEC-Q200 for automotive use, ensuring a maximum operating temperature of 170 degrees C that provides high reliability even in vehicle environments where temperatures can be particularly severe, such as in the engine compartment.

View PDF