Features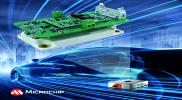 Evaluating Three Key Pieces of a SiC Total System Solution - October 2020
Following a rapid expansion of SiC product options, the industry's next challenge is simplifying the design-in process for end users. Power system developers need holistic solutions that address not...
More details...
Linear voltage regulators operate at automotive temperatures
Designed for high reliability, high temperature applications, the CMT-Antares is Cissoid's latest regulator.
More details...
Power Electronics Europe News
Transphorm claims industry's first 600V GaN transistor
It offers 63mΩ R(on) and 34A ratings and uses the company&rs source-tab connection design to reduce EMI at high dv/dt. This enables low switching loss and high-speed operation in power supply and inverter applications.
The device achieves an R(on) increase under switching of only 5% at 400V, compared to other competitively rated devices with an almost 90% increase, claims the company.
View PDF