Features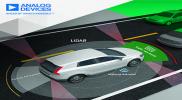 Powering the future of Autonomous driving - issue 4/2019
Analog Devices announced mid July a collaboration with First Sensor AG to develop products aimed at speeding the launch of autonomous sensing technology serving unmanned automotive, aerial and...
More details...
Linear voltage regulators operate at automotive temperatures
Designed for high reliability, high temperature applications, the CMT-Antares is Cissoid's latest regulator.
More details...
Power Electronics Europe News
A series of 1200V field stop trench IGBTs targets hard-switching industrial applications such as solar inverters....
Metallised film capacitor manufacturer ICW, based in Wrexham, UK, has announced a joint sales agreement with ICEL S.R.L....
A current transducer from Power Electronics Measurements (PEM) provides accurate true rms with 4 to 20mA or 0 to 5V output....
600V trench-gate field stop IGBTs break through power design constraints, claims STMicroelectronics....
New markets for batteries in electric vehicles and stationary energy storage systems are set to boost Lithium-Ion's fortunes....
Texas Instruments has introduced the UCC28180 PFC (power factor correction) controller which halves power dissipation....
International Rectifier has introduced a DirectFET2 power MOSFET for power steering, braking systems and pumps. ...
Toshiba Electronics Europe is sampling a multi-output system power supply IC that enhances automotive monitoring....
The bq27741 is the industry's first Li-Ion fuel gauge, says Texas Instruments. It extends run-time and protects batteries in portable medical and industrial devices. ...
The Frauhofer Institute, SUMIDA Components and Leibherr are collaborating in a GaN-resonant project....