Features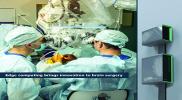 Edge Computing Leverages Modular Power in Scalable Micro Data Centres - May 2022
Edge computing is essential to realizing the full potential of artificial intelligence (AI), machine learning and internet of things (IoT). These technologies are being infused into every corner of...
More details...
Power Electronics Europe News
The DA9313 is the first 10A inductorless power converter to offer over 98% efficiency, says Dialog Semiconductor...
Efficient Power Conversion (EPC) claims to reduce the size of cost of eGaN transistors while improving performance...
STMicroelectronics believes power supply designers can meet power and efficiency demands with the 900V MDmesh K5 MOSFETs....
Four, higher power DC/DC converters, operating from 200 to 425V DC, have been added to the PH-A280 series by TDK-Lambda....
The 16bit DAC8775 data converter helps shrink board space and design costs for industrial automation, says Texas Insttruments...
Three devices have been added to the GFET3 Integrated Power Switch (IPS) portfolio by Siliego Technology....
The AOZ5038QI integrates a dual gate driver and two optimized MOSFETs in a 31-pin 5.0 x 5.0mm QFN package....
N-channel MOSFETs from Toshiba Electronics Europe have been added to the U-MO IX-H series.https://toshiba.semicon-storage.com...
A 32-channel driver from Intersil has an integrated decoder that reduces the size of satellite command and telemetry systems....
Single, dual and quad operational amplifiers from Linear Technology extend its line of low noise, precision op amps...