Features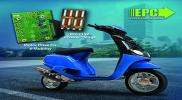 Integrated GaN Power Stage for eMobility - issue 2/2020
Brushless DC (BLDC) motors are a popular choice and are finding increasing application in robotics, drones, electric bicycles, and electric scooters. All these applications are particularly sensitive...
More details...
Linear voltage regulators operate at automotive temperatures
Designed for high reliability, high temperature applications, the CMT-Antares is Cissoid's latest regulator.
More details...
Power Electronics Europe News
Toshiba Electronics Europe launches a Qi Standard wireless charging IC duo to charge portable devices in less time....
STMicroelectronics releases the BlueNRG Bluetooth SMART network processor for longer-lasting battery-powered applications....
The MIC95410 is a 7A load switch in a compact 1.2mm x 2.0mm package from Micrel....
The LTC3371 is an integrated general-purpose power management device for systems requiring multiple low voltage supplies....
DC/DC power modules from Ericsson deliver up to 120W within a wide input range from 18 to 75V DC....
Diodes extends its line of small discrete products for space-critical product design with a trio of small-signal MOSFETs....
Ambiq Micro claims to redefine low power with up to 10x reduction in energy consumption in its Apollo microcontrollers....
Merger of Power Semiconductor Leaders...
Power Electronics Awards ahead of PCIM...
Huawei makes big step...