Features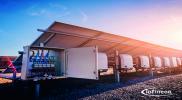 Benefits of CoolSiC MOSFETs in Bi-Directional Inverter Applications - July 2021
With the move to renewable energy, there is an increased focus not only on generation but also storage, to make the most of the intermittent supply from wind and solar. Batteries are the common...
More details...
Power Electronics Europe News
DC/DC converter halves profile height for automation


At 12.5 x 4.36 x 10.41mm, the NXE2 series provides more power output in the same space, says the company. The 2W converter is constructed using automated techniques in a halogen free iLGA inspectable package with an integrated transformer.
The series comprises four models with nominal input voltages of 5 or 12V DC and outputs of 5, 12 or 15V DC. Input to output isolation of 3 kV DC is standard across the range.
The converters can be used in industrial automation, instrumentation and transportation equipment. It is also suitable for use in telecomms, wireless and medical designs that require a low power isolated DC voltage such as an isolated communications interface for example.
Certification to UL60950 and medical safety is pending.
View PDF