Features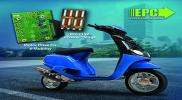 Integrated GaN Power Stage for eMobility - issue 2/2020
Brushless DC (BLDC) motors are a popular choice and are finding increasing application in robotics, drones, electric bicycles, and electric scooters. All these applications are particularly sensitive...
More details...
Linear voltage regulators operate at automotive temperatures
Designed for high reliability, high temperature applications, the CMT-Antares is Cissoid's latest regulator.
More details...
Power Electronics Europe News
The InnoSwitch IC family offers the best of both worlds, says Power Integrations, for switch-mode power supply design. ...
Infineon Outperformes The Market...
The iW1770 primary-side controller provides higher peak power to allow designers to create small, high power adapters....
Nine Enpirion power SoCs, including step-down ICs, by Altera are automotive-qualified....
Analog Devices claims that its dual D/A converters are an industry first – delivering 2.8Gsample/s....
In Munich (electronica 2014 – Hall A5 – stand 320) the company will announce additions to its portfolio....
The InnoSwitch family of switcher ICs from Power Integrations uses FluxLink safety-isolated technology....
A family of standards-compliant SoC transceivers from ON Semiconductor support communications for IoT and smart meters....
The XC9306 synchronous buck-boost converter is designed by Torex to prolong battery life. ...
Zener diodes with 500 mW of power dissipation are available from Vishay Intertechnology in a compact MicroSMF eSMP package. ...