Features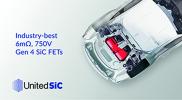 A New Approach to Circuit Breaker Design Using Silicon Carbide Switches - Nov 21
Mechanical circuit breakers can be low cost with minimal losses, but they operate slowly and wear out. Solid state versions overcome the problems and are becoming increasing viable as replacements at...
More details...
Power Electronics Europe News
Configurable, digitally controlled AC/DC power supplies by XP Power, the nanofleX is in a low profile chassis....
An ISO 11898-2 compliant controller area network CAN ÁModule guards against interruptions in 3.3 or 5V applications....
Two automotive n-channel MOSFETs are claimed to provide class-leading low on-resistance for load switching....
Primary‑side power switchers from Diodes enable designers to meet Energy Star Level 6 and EU CoC Tier 2 requirements. ...
Microcontroller supplier, Renesas Electronics has announced it will acquire power management and analogue company, Intersil...
Three encapsulated DC/DC converters from CUI, the PDQ10‑D (10W), PDQ15‑D (15W) and PDQ30‑D (30W) are in an industry package....
The mergers & acquistions continue on large scale...
The first industrial class DC/DC converter modules in the ICQ series has been announced by Murata Power Solutions....
16bit, low power microcontrollers have superior processing capability and low power consumption, claims Lapis Semiconductor....
The A5989 40V motor driver IC combines a bipolar stepper and high current DC motor driver IC....