Features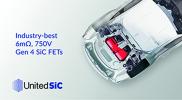 A New Approach to Circuit Breaker Design Using Silicon Carbide Switches - Nov 21
Mechanical circuit breakers can be low cost with minimal losses, but they operate slowly and wear out. Solid state versions overcome the problems and are becoming increasing viable as replacements at...
More details...
Power Electronics Europe News
Synchronous buck regulators deliver PoL conversions for ADAS
The ISL78233, ISL78234 and ISL78235 deliver 3.0, 4.0 and 5.0A, respectively, of continuous output current to infotainment head units and ADAS using forward-looking smart cameras to detect and classify objects. The pin-compatible sync buck regulators can be dropped in to a PCB to address the load requirements of entry-level to luxury car models.

A current mode control architecture delivers fast transient response and loop stability, says the company. The converters integrate low RDS ON high-side PMOS and low-side NMOS MOSFETs to reduce external component count and power losses with 100% duty cycle operation. A switching frequency of 2MHz is combined with guaranteed 100ns (max) minimum on time to avoid AM radio channel interference and allowing designers to use lower value inductors and smaller capacitors.

Guaranteed minimum on time provides the wide step-down ratio necessary to deliver a 1V PoL supply at high switching frequencies.

The ISL78235 5A synchronous buck regulator is available now in a 5.0 x 5.0mm 16-lead WFQFN package. The ISL78233 3A and ISL78234 4A synchronous buck regulators are available now in 5.0 x 5.0mm 16-lead WFQFN packages. Evaluation boards are also available. A 3.0 x 3.0mm TQFN package is also available for all models.
View PDF