Features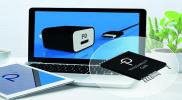 GaN-based switcher ICs empower next-generation power products - issue 1/2020
There have been a number of disruptive advances in the power electronics community over the last 20 years....
More details...
Linear voltage regulators operate at automotive temperatures
Designed for high reliability, high temperature applications, the CMT-Antares is Cissoid's latest regulator.
More details...
Power Electronics Europe News
PCIM Europe has recorded 8,006 visitors passed through the doors of this year's show in Nuremberg....
Product Approvals launches the Compliance Management Service for power electronics....
Valley current mode control allows very short "on" times to be achieved, says Allegro MicroSystems Europe, of its A8672....
Stackable U-cores from EPCOS feature a modular ferrite design for flexibility and economy....
Intersil has announced the ISL8216M 80V, 4A non-isolated DC/DC step-down power module. ...
Rutronik offers the AP3595 dual phase, synchronous rectified buck controller from Diodes. ...
Infineon Technologies claims it has released the smallest CoolMOS MOSFET, the ThinPAK 5x6....
Three mixed-voltage NPCs are integrated into a single flow 1 housing for 1200V solar three-phase inverter applications....
CT-Concept ships its first products with SCALE-2 gate driver chipset enabling soft shutdown in the event of a short circuit....
Advanced Power Electronics has introduced a small load switch with controlled turn-on and very low on-resistance....