Features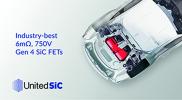 A New Approach to Circuit Breaker Design Using Silicon Carbide Switches - Nov 21
Mechanical circuit breakers can be low cost with minimal losses, but they operate slowly and wear out. Solid state versions overcome the problems and are becoming increasing viable as replacements at...
More details...
Power Electronics Europe News
Isolated converters shield in noise-sensitive circuitry
According to the company, the 20W and 30W isolated converters provide superior protection for noise-sensitive circuitry.
Nominal input voltages of 12, 24 or 48V make them suitable for high power industrial applications, such as industrial automation, telecomms equipment, and general distributed power architectures. The standard input voltage range of 2:1 provides a good safety margin for most applications.
The REC20-Z and REC30-Z versions have a wider, 4:1, input range for use where large or unfilterable input-voltage fluctuations are expected.
Output voltage selection covers 3.3, 5.0, 12 and 15V. Dual outputs of ±12V and ±15V are also available. The converters can deliver output current of up to 5A (REC20 series) or 6A at 5V or 3.3V (REC30 series). The higher-current versions have raised output voltages to compensate for track losses.
The converters are 10.2mm high, 6pin modules with a 50.8 x 25.4mm (20W units) or 50.8 x 40.6mm outline for the 30W units. To enhance safety and control there is continuous short-circuit protection and remote on/off enhance safety and control. All modules have 1.6kV DC isolation, meet IEC 60950-1 safety requirements, and are certified to EN55022.
View PDF