Features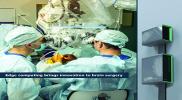 Edge Computing Leverages Modular Power in Scalable Micro Data Centres - May 2022
Edge computing is essential to realizing the full potential of artificial intelligence (AI), machine learning and internet of things (IoT). These technologies are being infused into every corner of...
More details...
Power Electronics Europe News
The LED professional Symposium Expo (LpS) 2017 will emphasize "Smart Technologies for Lighting Innovations"....
AC/DC power supplies from Recom are for medical applications. The RACM range is available from Dengrove Electronic Components...
The AOK40B65H2AL, improves high-speed switching applications, claims Alpha and Omega Semiconductor....
The compact TAS6424-Q1 four-channel amplifier from Texas Instruments, enables high-fidelity audio with low distortion....
Offered in a QFN32 package, the TB62269FTAG is a compact, high-resolution 40V, 1.8A motor driver, from Toshiba Electronics...
The 19th European Conference on Power Electronics and Applications will be held in WARSAW from 11 - 14 Sept. 2017...
Award includes prize money of EUR 10.000,00 ...
Multi-discipline team collaboration solution to manage increasing system complexity...
Siemens acquires electronics simulation software vendor...
A two-phase 120A 3E digital PoL DC/DC power module can be connected in parallel to provide loads of up to 480A....