Features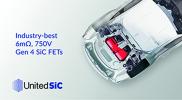 A New Approach to Circuit Breaker Design Using Silicon Carbide Switches - Nov 21
Mechanical circuit breakers can be low cost with minimal losses, but they operate slowly and wear out. Solid state versions overcome the problems and are becoming increasing viable as replacements at...
More details...
Power Electronics Europe News
Multi-channel AFEs reduce power in healthcare imaging
The AFE5818 and AFE5816 families are the industry's first 16-channel ultrasound AFEs, claims the company. Versions are available with or without a demodulation block and JESD204B interface option to simplify board layout and to provide cost savings, says the company.

The 16-channel, simultaneously sampling AFEs offer power consumption as low as 94mW (AFE5818) and 52mW (AFE5816) per channel. This is 33% better, per channel, than competing devices, says the company.

Both include a 5Gbit/s JESD204B serial interface, reducing ultrasound system data I/O routing by as much as 80% compared to other data interface standards and enabling a data rate of up to 6.4Gbit/s.

A DTGC engine with 0.125dB resolution reduces noise and power consumption, while an on-chip digital demodulator conditions 16 channels of data from RF to a baseband frequency. This reduces the load on the system processing engine to enable lower latency and higher image quality.

The company has also released the ADS52J90, 16-channel high-speed ADC that can be configured for up to 32 inputs. It also offers on-chip digital demodulator for reducing processor or FPGA costs, as well as a LVDS or JESD204B serial interface for faster data rates.
View PDF