Features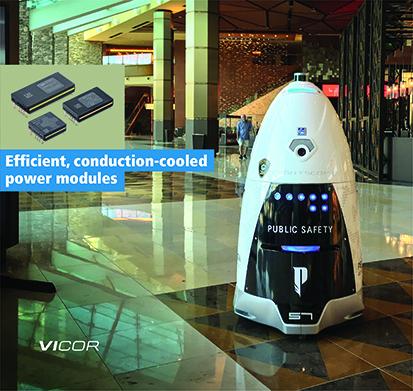 Knightscope's autonomous security robots patrol with superhuman acuity and detection prowess - May 2023
A fusion of innovative robotics, self-driving technology, vehicle electrification and artificial intelligence
More details...
AC/DC power factor correction module offers up to 1,512W
A full brick package developed by TDK-Lambda, the PF1500B-360, is for high voltage distributed power architectures
More details...
Power Electronics Europe News
Analog Devices introduces the LTC7004, high speed, high side N-channel MOSFET driver which operates up to a 60V supply....
Microchip has announced the SST26WF064C, a 1.8V Serial Quad I/O SuperFlash memory which reduces overall power consumption. ...
The ISL32741E and ISL32740E transceivers deliver the industry's highest working voltage, claims Intersil, and low EMI....
An EPC9083 development board from Efficient Power Conversion (EPC) uses a 200V eGaN FET to evaluate efficiency up to 15MHz....
Standing 5.5mm high, the Recom R1X, 1W unregulated DC/DC converter are now available from Dengrove Electronic Components....
The XC6808 series of charging ICs are for single-cell Li-Ion/polymer secondary batteries in wearable products or IoT devices....
The ML100SRI DC/DC converters by MicroPower Direct are designed to save space in board level power distribution applications....
EPC has introduced a Class 4 AirFuel Alliance-compatible wireless power demonstration kit for wireless charging....
The performance of the S8016xA SCR switching thyristors makes them robust for on- and off-board applications, says Littelfuse...
TMBS rectifiers from Vishay Intertechnology now include 10 1.0 and 2.0A devices in an eSMP MicroSMP package....