Features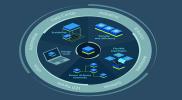 Power of the Module - Nov/Dec 2020
Vicor has established a power module capability spanning product design, manufacturing, simulation and selection tools. This capability allows Vicor to enable power systems designers to quickly and...
More details...
Power Electronics Europe News
A GaN half bridge from EPC (Efficient Power Conversion) can increase efficiency and power density for buck converter systems....
A 10W wireless charging receiver and transmitter for Qi-compliant devices have been released by Texas Instruments....
The InnoSwitch IC family offers the best of both worlds, says Power Integrations, for switch-mode power supply design. ...
Infineon Outperformes The Market...
The iW1770 primary-side controller provides higher peak power to allow designers to create small, high power adapters....
Nine Enpirion power SoCs, including step-down ICs, by Altera are automotive-qualified....
Analog Devices claims that its dual D/A converters are an industry first – delivering 2.8Gsample/s....
In Munich (electronica 2014 – Hall A5 – stand 320) the company will announce additions to its portfolio....
The InnoSwitch family of switcher ICs from Power Integrations uses FluxLink safety-isolated technology....
A family of standards-compliant SoC transceivers from ON Semiconductor support communications for IoT and smart meters....