Features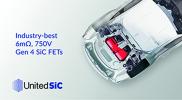 A New Approach to Circuit Breaker Design Using Silicon Carbide Switches - Nov 21
Mechanical circuit breakers can be low cost with minimal losses, but they operate slowly and wear out. Solid state versions overcome the problems and are becoming increasing viable as replacements at...
More details...
Power Electronics Europe News
Slim photocoupler protects industrial automation
The thin SO6L package offers protection against extreme operating temperatures in indutrial automation, says the company. The package measures just 10 x 3.8 x 2.1mm and guarantees a clearance and creepage distance of 8mm and offers a maximum height of just 2.3mm, which means a thickness reduction of approximately 45%, when compared to the previous SDIP6 package, says the company. Operating temperature range is -40 to 125°C.
An integrated, IR LED in the input side is paired with an open-collector output type high-speed photo-IC in the output side that is capable of high data transmission rates and which supports both 3.3 and 5V power supplies.
View PDF