Features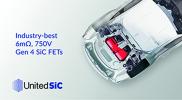 A New Approach to Circuit Breaker Design Using Silicon Carbide Switches - Nov 21
Mechanical circuit breakers can be low cost with minimal losses, but they operate slowly and wear out. Solid state versions overcome the problems and are becoming increasing viable as replacements at...
More details...
Power Electronics Europe News
45V 500mA LDO improves PSRR
Precision, programmable current limit, active discharge, a power good flag and improved power supply rejection ratio (PSRR) capability are features of the company's latest high voltage, low noise, low dropout voltage linear regulator.
It delivers up to 500mA output current with a 300mV dropout voltage at full load. An internal NMOS pull-down discharges the output voltage if either the SHDN pin is driven low or the input voltage is turned off. The rapid active output discharge helps protect the load in applications that require power conditioning on both start-up and shutdown, such as high-end imaging sensors.
Input range is 1.8 to 45V and the output voltage is adjustable from 0.6 to 19V. A single REF/BYP pin capacitor provides low noise operation of only 25µVRMS across a 10Hz to 100kHz bandwidth. Soft-start functionality prevents output voltage overshoot at turn-on. Output voltage tolerance is ±2% over line, load and temperature. An additional single INFILT pin capacitor improves PSRR by 15 to 20dB for frequencies from 20kHz to 1MHz, with 1MHz PSRR reaching 60dB.
The LDO operates with a very small, low cost, 3.3µF ceramic output capacitor, claimed to optimise stability and transient response. The power-good flag indicates output regulation. One resistor programs the external precision current limit (±10% over temperature). Internal protection circuitry includes reverse-battery protection, reverse-current protection, current limit with foldback, and thermal limiting.
Quiescent current is low, 64µA (operating) and less than 2µA (in shutdown), suitable for industrial, avionic and automotive power supplies, and battery-powered systems and instruments requiring extensive protection.
The LT3066 is available in thermally enhanced 12-lead 3.0 x 4.0mm DFN and 12-lead MSOPs packages. E- and I-grade versions are available from stock, with an operating junction temperature of -40 to 125°C.
View PDF