Features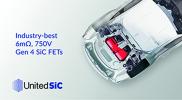 A New Approach to Circuit Breaker Design Using Silicon Carbide Switches - Nov 21
Mechanical circuit breakers can be low cost with minimal losses, but they operate slowly and wear out. Solid state versions overcome the problems and are becoming increasing viable as replacements at...
More details...
Power Electronics Europe News
Onsemi Acquires Fairchild Semi
ON Semiconductor to Acquire Fairchild Semiconductor for $2.4 Billion in Cash
ON Semiconductor and Fairchild Semiconductor International Inc. announced on Nov. 18 that they have entered into a definitive agreement for ON Semiconductor to acquire Fairchild for $20.00 per share in an all cash transaction valued at approximately $2.4 billion. The acquisition creates a power semiconductor company with combined revenue of approximately $5 billion, diversified across multiple markets with a strategic focus on automotive, industrial and smartphone end markets.
Following consummation, the transaction is expected to be immediately accretive to ON Semiconductor's non-GAAP earnings per share and free cash flow, excluding any non-recurring acquisition related charges, the fair value step-up inventory amortization, and amortization of acquired intangibles. ON Semiconductor anticipates achieving annual cost savings of $150 million within 18 months after closing the transaction. The transaction is not subject to a financing condition. ON Semiconductor intends to fund the transaction with cash from the combined companies balance sheet and $2.4 billion of new debt. The debt financing commitment also includes provisions for a $300 million revolving credit facility which will be undrawn at close. ON Semiconductor remains committed to its share repurchase program, and the agreed upon financing provides flexibility to continue share repurchases going forward.
"The combination of ON Semiconductor and Fairchild creates a power semiconductor leader with strong capabilities in a rapidly consolidating semiconductor industry. Our plan is to bring together two companies with complementary product lines to offer customers the full spectrum of high, medium and low voltage products," said Keith Jackson, president and chief executive officer of ON Semiconductor. "The immediate EPS accretion and potential to significantly augment ON Semiconductor's free cash flow, make the Fairchild acquisition an excellent opportunity for ON Semiconductor stockholders." "As part of ON Semiconductor, Fairchild will continue to pioneer technology and design innovation in efficient energy consumption to help our customers achieve success and drive value for our partners and employees," stated Mark Thompson, chairman and chief executive officer of Fairchild.
www.onsemi.com, www.fairchildsemi.com