Features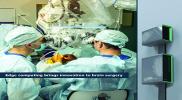 Edge Computing Leverages Modular Power in Scalable Micro Data Centres - May 2022
Edge computing is essential to realizing the full potential of artificial intelligence (AI), machine learning and internet of things (IoT). These technologies are being infused into every corner of...
More details...
Power Electronics Europe News
Analog Devices introduces the AD9164 DAC, and claims its high resolution radar images improve accuracy and speed of test....
A family of power modules from Alpha and Omega Semiconductor comply with Intel's DrMOS specifications. ...
Analog Devices and Linear Technology...
Equipped with an intergrated translator, the A5985 DMOS microstepping driver uses a proprietary control method....
Two digital output isolation amplifiers for current and voltage sensing in power converters have been announced by Toshiba....
Claimed to be the industry's first radiation-tolerant 36V instrumentation amplifier, the ISL70617SEH is from Intersil....
Single-chip RS-232/RS-485/RS-422 serial transceivers from Exar now include the XR34350, claimed to simplify designs....
Two, miniature power relays have four times the endurance of the standard G5Q relay, says Omron Electronic Components Europe....
Two secondary synchronous rectification controller ICs from Infineon meet energy efficiency in data centre standards....
A powdered-iron-based, WPC (Wireless Power Consortium) –compatible A11 type transmitter coil saves space, says Vishay....