Features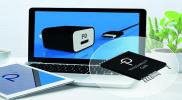 GaN-based switcher ICs empower next-generation power products - issue 1/2020
There have been a number of disruptive advances in the power electronics community over the last 20 years....
More details...
Linear voltage regulators operate at automotive temperatures
Designed for high reliability, high temperature applications, the CMT-Antares is Cissoid's latest regulator.
More details...
Power Electronics Europe News
Microchip has announced a three-phase BLDC motor gate driver with power module - the MCP8024. ...
PCIM South America (14 to 15 October 2014, São Paulo), will host a Young Engineer Award and a Best Paper Award....
Amantys' Power Insight Adapter is designed for use during the development and commissioning of new systems. ...
The 1EDI EiceDRIVER is a single channel gate driver for applications with isolation voltages of up to 1200V. ...
PoL, non-isolated, DC/DC converters based on the Digital Control Architecture from Powervation, has been released by Murata....
A power analyzer from Tektronix addresses new demands for energy efficiency, regulations and new silicon technologies....
APEC 2014...
The D1U86G, 460W front end power supplies from Murata Power Solutions achieve conversion efficiency of 92% at 50% full load....
Linear Technology adds the LT3086 to the LDO family of low dropout linear regulators....
Revenues from UPS services in 2014 are forecast to grow by an estimated 7.7%, according to IHS research....