Features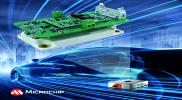 Evaluating Three Key Pieces of a SiC Total System Solution - October 2020
Following a rapid expansion of SiC product options, the industry's next challenge is simplifying the design-in process for end users. Power system developers need holistic solutions that address not...
More details...
Linear voltage regulators operate at automotive temperatures
Designed for high reliability, high temperature applications, the CMT-Antares is Cissoid's latest regulator.
More details...
Power Electronics Europe News
MLS Flatpack aluminum electrolytic capacitors from Cornell Dubilier Electronics (CDE) now include two new options....
Six AEC-Q100-qualified gate drivers with propagation delays of less than 15ns have been announced by Texas Instruments....
Intersil has introduced the ISL8240M, a dual 20A/single 40A step-down power module that delivers up to 100W of output power....
Vishay Intertechnology has introduced a series of AEC-Q200-qualified, AC-line-rated ceramic disc safety capacitors. ...
Four NTC chip thermistors for high-accuracy temperature measurement have been released by Ametherm....
The iJB series of 60A non-isolated SMT DC/DC converters are compact PoL modules from TDK-Lambda....
A 40V capable switching controller, the XR75100 synchronous step-down controller, from Exar, supports PoL from 24V DC and 24V...
Excelsys Technologies adds the powerPac model to its XF series of high reliability, ruggedized COTS modular power supplies....
The Surge-Gard NTC inrush current limiting thermistors, handle high steady-state currents to 36A and input energy to 250J....
Claimed to have the industry's fastest boot time, the TW8836 is an LCD controller from Intersil....