Features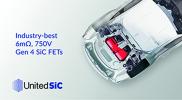 A New Approach to Circuit Breaker Design Using Silicon Carbide Switches - Nov 21
Mechanical circuit breakers can be low cost with minimal losses, but they operate slowly and wear out. Solid state versions overcome the problems and are becoming increasing viable as replacements at...
More details...
Power Electronics Europe News
Isolated converters save space
They have output voltage regulation to save space, for use where a regulated voltage is needed within tight space constraints, says the company.
The R1Z range now comprises 200 part numbers, and all variants are offered in the UK by Dengrove. The 10pin, surface mount modules occupy the same board space as standard unregulated converters, says the company, but ensure 1% load regulation to meet the demands of instrumentation, industrial controls and bus isolation.

Configurations include 1.0 or 2kV isolation, optional continuous short-circuit protection, and a choice of 3.3, 5.0, 9.0, 12 or 15V output voltages. Any output voltage can be combined with 3.3, 5.0, 12, 15 or 24V input.

All models integrate an EN 55022 class-A EMI filter, and are specified over the industrial temperature range (-40 to 85°C).

The converters carry EN 60950-1 (safety) and EN 60601-1 (medical) certifications, and are backed up by a three-year manufacturer's warranty.
View PDF