Features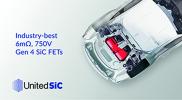 A New Approach to Circuit Breaker Design Using Silicon Carbide Switches - Nov 21
Mechanical circuit breakers can be low cost with minimal losses, but they operate slowly and wear out. Solid state versions overcome the problems and are becoming increasing viable as replacements at...
More details...
Power Electronics Europe News
Bi-directional switches protect lithium batteries during charge times
The DMN2014LHAB and DMN2011UFX MOSFETs provide a compact, bi-directional low-loss switch for battery-charging circuits, says Diodes Incorporated, for chargers smartphones, tablets, cameras and media players and other portable devices which use one- and two-cell lithium batteries.
They are configured as dual common-drain MOSFETs and, when switched on, allow bi-directional current flow for charging or operation. Switched off they protect the battery by preventing over-charging or excessive current drain. Breakdown rating is 20V, with a low on resistance of RDS(on) less than 13mΩ (DMN2014LHAB) and 9.5mΩ (DMN2011UFX), to reduce battery power loss in normal operation. Maximum peak current up to 80A allows the switch to briefly handle short-circuit conditions before the protection circuitry kicks in. A low gate threshold voltage, VGS(th) less than 1V, ensures correct operation even with drive voltages as low as 1.8V, says the company.
The DMN2014LHAB is available in 2 x 3mm DFN2030 package and the DMN2011UFX is offered in the 2 x 5mm DFN2050. The space saved can be used for additional cells and increase the battery's mAh capacity.
View PDF