Features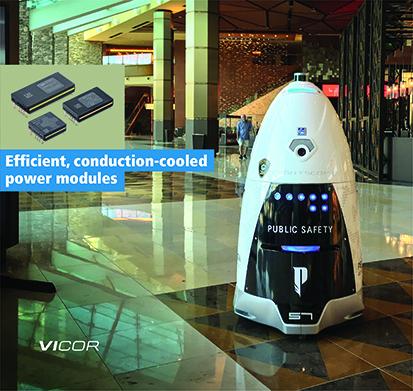 Knightscope's autonomous security robots patrol with superhuman acuity and detection prowess - May 2023
A fusion of innovative robotics, self-driving technology, vehicle electrification and artificial intelligence
More details...
AC/DC power factor correction module offers up to 1,512W
A full brick package developed by TDK-Lambda, the PF1500B-360, is for high voltage distributed power architectures
More details...
Power Electronics Europe News
Single output PQC power supplies from Murata Power Solutions, offer up to 95% power efficiency....
Zettler Electronics offers the mini AZ SR131 power relay, capable of switching up to 35A at 277V AC....
The ADF5356 is a 13.6GHz wideband synthesizer from Analog Devices that is integrated for reduced system size....
MIL-COTS DC/DC converters and MIL-STD input filter from Vicor meet advanced SWaP-C requirements....
The PLEDxN series of open LED protectors from Littelfuse are designed for use with high-brightness 1W LEDs....
Alpha and Omega Semiconductor announces a 5A EZBuck DC/DC synchronous, buck regulator with Ultra Pulse Energy Mode (U-PEM)....
High-voltage GaN multilevel power converter embedded in PCB...
Claimed to be the first DC/DC converter capable of DC fan motor speed control, Rohm Semiconductor has introduced the BD9227F....
Recom says its RAC150-G series SMPS are designed for high power-density in applications with limited airflow...
Analog Devices announces a ÁModule (power module) step-down regulator which can safely operate in noisy environments....