Features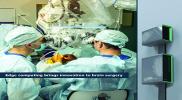 Edge Computing Leverages Modular Power in Scalable Micro Data Centres - May 2022
Edge computing is essential to realizing the full potential of artificial intelligence (AI), machine learning and internet of things (IoT). These technologies are being infused into every corner of...
More details...
Power Electronics Europe News
Monolithic, synchronous buck regulators provide continuous output current for in Advanced Driver Assistance Systems (ADAS)....
Wolfspeed has enhanced its GaN RF HEMTs to Class S and Class K equivalent levels for aerospace customers. ...
Characterised by low quiescent current draw and synchronous rectification, Power Integrations introduces InnoSwitch-CE ICs....
A clever isolation technique for Power ICs is now being implemented in IGBT Drivers...
Semis fell, power semis rise...
Digitally controlled, PMBus-compatible OKDL products have been announced by Murata Power Solutions....
Two current sensor ICs from Allegro Microsystems are suitable for industrial, commercial, and communication systems....
Navitas Semiconductor claims to have produced the world's first GaN (Gallium Nitride) power ICs....
PCIM Europe (10-12 May) in Nuremberg welcomes 61 first-time exhibitors and announces a conference and forum programme....
To counter damage to motor bearings, Power Electronic Measurements (PEM) has developed the CMC series of current probes....