Features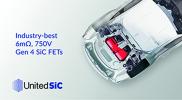 A New Approach to Circuit Breaker Design Using Silicon Carbide Switches - Nov 21
Mechanical circuit breakers can be low cost with minimal losses, but they operate slowly and wear out. Solid state versions overcome the problems and are becoming increasing viable as replacements at...
More details...
Power Electronics Europe News
Pin-configurable, 19V, 5A DC/DC converter is compact for comms
It has pin selectable output voltage, switching frequency and current limit settings, which eliminates multiple external components for network switches/routers, servers, storage, base stations, FPGA and DSP power as well as factory automation and security cameras.
Operating over a wide input voltage range of 4.5 to 19V, it can be used for distributed 12V PoL applications. There are three settings for switching frequency (400, 565, or 790kHz) and the output voltage can be selected from 0.7 to 3.3V via nine settings. An internal divider is used for true 1% VOUT accuracy setting from 0.7 to 1.2V. The current limit can be selected to support 3.0, 4.0, or 5A).
Hiccup-mode short circuit protection, internal soft-start, safe pre-biased start-up, and thermal shutdown are included.
View PDF