Features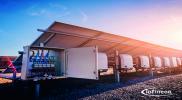 Benefits of CoolSiC MOSFETs in Bi-Directional Inverter Applications - July 2021
With the move to renewable energy, there is an increased focus not only on generation but also storage, to make the most of the intermittent supply from wind and solar. Batteries are the common...
More details...
Power Electronics Europe News
Dual 3A/single 6A step-down module simplifies supply design
It is designed for power supply design in FPGAs, ASICs, microprocessors, DSPs and other point of load conversions in communications, test and measurement, and industrial systems. The footprint is 9 x 6.5 x 1.83mm and efficiency is 95%. The encapsulated module includes a PWM controller, synchronous switching MOSFETs, inductors and passive components to build a power supply supporting an input voltage range of 2.85 to 6V. With an adjustable output voltage between 0.8 and 5V, one device can build a single 6A or dual output 3A power supply. According to the company, it offers best-in-class 15°C/W thermal performance and delivers 6A at 85°C without the need for heatsinks or a fan. Protection features are over-temperature, over-current and under-voltage lockout protection. The ISL8203MEVAL2Z evaluation is also available.
View PDF