Features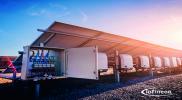 Benefits of CoolSiC MOSFETs in Bi-Directional Inverter Applications - July 2021
With the move to renewable energy, there is an increased focus not only on generation but also storage, to make the most of the intermittent supply from wind and solar. Batteries are the common...
More details...
Power Electronics Europe News
Infineon Technologies expands GaN technology and product portfolion with enhancement mode and cascode configuration devices....
For designers using DC/DC converters, Recomís guide, entitled DC/DC Book of Knowledge is a handy guide....
Complete Buck Converter for Data/Telecom...
Infineon strengthen its position in power gallium nitride...
First entry of Texas Instruments with GaN solutions will accelerate market adoption...
Designed for high reliability, high temperature applications, the CMT-Antares is Cissoid's latest regulator....
Eight single-phase BLDC motor pre-driver ICs from Toshiba are designed for high-current cooling fan applications....
A diversified conference program for PCIM Europe 2015 has been published, with over 300 abstracts on trends in power....
The ISL8203M is a dual 3A/single 6A step-down DC/DC power module that simplifies power supply design, claims Intersil....
Infineon has announced that it shipped over one billion TVS diodes in chip scale packages in 2014. ...