Features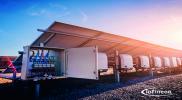 Benefits of CoolSiC MOSFETs in Bi-Directional Inverter Applications - July 2021
With the move to renewable energy, there is an increased focus not only on generation but also storage, to make the most of the intermittent supply from wind and solar. Batteries are the common...
More details...
Power Electronics Europe News
Dengrove offers Recom power supplies that meet two MOPP (means of patient protection) 8mm creepage and clearance performance....
A quad-channel protector and two multiplexers from Analog Devices offer over-voltage protection....
At Intersolar Europe, imec announced a thin-film perovskite PV module of a power conversion efficiency of 8%....
Infineon has added the OptiMOS 300V, claiming to set a new standard in the power MOSFET market....
A PMIC from Dialog Semiconductor is claimed to halve comparable notebook power design and deliver 98% efficiency....
The TW9992 analogue video decoder from Intersil has an integrated MIPI-CSI2 output interface....
To increase the power density of DC/DC converters, a complementary MOSFET pair integrates N-and P-channel MOSFETs....
Linear Technology announces the LTC2348-18, 18bit, eight-channel simultaneous sampling SAR ADC....
Claimed to be the industry's smallest 20A power module, XR79120, has been released by Exar....
Research projects 3Ccar, OSEM-EV and Silver Stream will focus on bringing c environmentally-friendly vehicles to market....