Features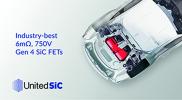 A New Approach to Circuit Breaker Design Using Silicon Carbide Switches - Nov 21
Mechanical circuit breakers can be low cost with minimal losses, but they operate slowly and wear out. Solid state versions overcome the problems and are becoming increasing viable as replacements at...
More details...
Power Electronics Europe News
Synchronous, step-down module uses COT control
The 20A single output, synchronous step-down power module measures 12 x 14 x 4mm, making it the industry's smallest, says the company. It offers greater than 93% peak efficiency and leverages patented constant on-time (COT) control architecture across a 4.5 to 22V input voltage range.
The power converter integrates MOSFETs, inductors, and internal input and output capacitors. The QFN-based package technology is claimed to provide superior thermal performance, ease electrical debugging and improve manufacturability with higher assembly yield and the ability to visually inspect solder joints. At 50°C with no airflow, no thermal de-ratings are required for output voltages of 1.8V and below.
The package is RoHS-compliant and halogen-free.
View PDF