Features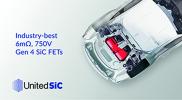 A New Approach to Circuit Breaker Design Using Silicon Carbide Switches - Nov 21
Mechanical circuit breakers can be low cost with minimal losses, but they operate slowly and wear out. Solid state versions overcome the problems and are becoming increasing viable as replacements at...
More details...
Power Electronics Europe News
Video decoder supports MIPI-CSI2 for vehicle camera SoCs
The interface is claimed to simplify design by making it easier to interface with SoCs, while also lowering the system's EMI profile.
The decoder takes both single-ended and differential composite video inputs from a vehicle's back-up safety camera. It has built-in diagnostics and addresses automotive video system issues such as image enhancement, via the Automatic Contrast Adjustment (ACA) feature by adapting to rapidly changing lighting conditions. ACA automatically boosts or reduces the brightness/contrast of an image for greater visibility and safety.
The decoder eliminates the need for an external op amp in front of the video decoder to convert the differential signal to single-ended. Instead it supports direct differential CVBS inputs, reducing system cost and board space. The built-in short-to-battery and short-to-ground detection capability on each differential input channel further enhances video performance and automotive system reliability.
The NTSC/PAL 10bit ADC analogue video decoder has 4H adaptive comb filter and software selectable analogue input control for combinations of single-ended or differential CVBS.
Output voltage is 1.8 to 3.3V, with 3.3V tolerance. Power consumption is 100mW, typical. The decoder is AEC-Q100 qualified, in a 32-pin wettable flank QFN package.
View PDF