Features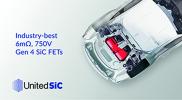 A New Approach to Circuit Breaker Design Using Silicon Carbide Switches - Nov 21
Mechanical circuit breakers can be low cost with minimal losses, but they operate slowly and wear out. Solid state versions overcome the problems and are becoming increasing viable as replacements at...
More details...
Power Electronics Europe News
Industry's first quad-channel protector and multiplexers are programmable
The ADG5462F quad channel protector, ADG5248F 8:1 multiplexer and ADG5249F differential 4:1 multiplexer offer ±55V over-voltage protection in power-on and power-off stages. It also provides, says the company, robust, precision protection against hot-swapping and operator misuse events, to protect downstream analogue components. On-chip fault diagnostics make this the first device in the industry to detect and avoid defective channels, which simplifies fault detection algorithms and improves system uptime.
Fault-trigger levels can be defined independently of primary supplies. They also optimise PCB area and simplify the design process by also removing the need for multiple discrete protection components, says the company.
The devices are suitable for precision instrumentation, process control and avionics applications. The ADG5248F and ADG5249F maximise throughput for small signal measurement, such as thermocouples or resistance temperature detectors (RTDs) by offering low-fault leakage of 70nA, which is 10 times lower than competing solutions, and on-leakage of 20nA. These levels ensure that the user can take accurate measurements when other multiplexer I/O channels are in an over-voltage fault condition, claims the company.
Operating temperature range is -40 to 125°C.
View PDF