Features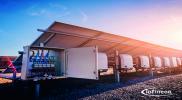 Benefits of CoolSiC MOSFETs in Bi-Directional Inverter Applications - July 2021
With the move to renewable energy, there is an increased focus not only on generation but also storage, to make the most of the intermittent supply from wind and solar. Batteries are the common...
More details...
Power Electronics Europe News
Diodes target low EMI in high frequency use
Based on Power Integations' Qspeed merged-pin technology, the diodes have the lowest junction capacitance (60%) and lowest reverse recovery charge (40% QRR) to date, lower than trench Schottky devices for high-frequency operation. According to the company, small and inexpensive magnetic components may be used while maintaining maximum efficiency. The devices' EMI performance means that the need for snubber capacitors is reduced or even eliminated, further improving efficiency and reducing cost.
Available from 10 to 40A in common-cathode configuration, the 150V diodes target applications in DC/DC converters and output rectifiers for hard switching or soft switching. They are immediately available in DPAK, D2PAK and TO-220 packages.
View PDF