Features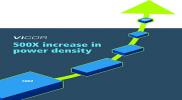 Innovating Power Module Packaging - April/May 21
A systemís power delivery network or PDN is made up of passive and active components such as cables, connectors, AC-DC and DC-DC converters and regulators. As power levels increase to enable new
More details...
Power Electronics Europe News
MOSFETs claim to be smallest for adapters, consumer and lighting
The MOSFET in a new leadless surface mounted package, guarantees, says the company, more flexibility in PCB designs and better switching performance, improving power conversion efficiency while reducing overall system size in low power adapters, lighting and thin panel TVs. Engineering samples are available now. Volume production will begin in September 2014.
View PDF