Features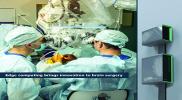 Edge Computing Leverages Modular Power in Scalable Micro Data Centres - May 2022
Edge computing is essential to realizing the full potential of artificial intelligence (AI), machine learning and internet of things (IoT). These technologies are being infused into every corner of...
More details...
Power Electronics Europe News
PMICs from Cypress Semiconductor regulate power supply voltage from a vehicle's battery for applications ...
After Infineon/IR Consolidation in Power Semiconductors Continues...
Useful for (H)EV Applications...
Menbtor's Flowtherm allows IGBT Module's Lifetime Prediction...
More Consumer Electronics in the car...
Claimed to have the industry's lowest quiescent current (Iq) at 700nA, the bq25120 has been released by Texas Instruments....
European initiative aims to address charging infrastructure....
Research by Oregon State University could shake up battery business....
A programmable power supply sequencer and voltage supervisor from Linear Technology has EEPROM, for six voltage rails....
Research shows promising results for a SiC MOSFET and a SiC Schottky barrier diode....