Features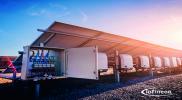 Benefits of CoolSiC MOSFETs in Bi-Directional Inverter Applications - July 2021
With the move to renewable energy, there is an increased focus not only on generation but also storage, to make the most of the intermittent supply from wind and solar. Batteries are the common...
More details...
Power Electronics Europe News
Ceramic disc safety capacitors are for EVs and HEVs
Vishay Intertechnology has introduced a series of AEC-Q200-qualified, AC-line-rated ceramic disc safety capacitors for Class X1 (440 VAC) and Y2 (300 VAC) automotive applications in accordance with IEC 60384-14.3, 3rd edition.
Featuring U2J, Y5S, and Y5U ceramic dielectrics, the AY2 capacitors are optimized for on-board chargers and battery management in electric cars and plug-in hybrid electric vehicles as well as high-reliability industrial applications. Capacitance is 10 to 4700pF, with tolerances down to ±10%, over a temperature range of -55 to 125°C.
The capacitors are claimed to achieve an unmatched level of performance, withstanding more than 2,000 temperature cycles without a single failure, which is twice the AEC standard. They are robust and consist of a silver-plated ceramic disc with tinned copper connection leads offering 0.6mm diameters. They are available with straight leads with spacing of 5, 7.5 and 10mm. The capacitors are RoHS-compliant and halogen-free, and encapsulated with flame-resistant epoxy resin in accordance with UL 94 V-0.
They are also qualified according to the AEC-Q200 specification.
View PDF