Features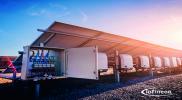 Benefits of CoolSiC MOSFETs in Bi-Directional Inverter Applications - July 2021
With the move to renewable energy, there is an increased focus not only on generation but also storage, to make the most of the intermittent supply from wind and solar. Batteries are the common...
More details...
Power Electronics Europe News
AEC-Q100-qualified, high-voltage LDOs from Texas Instruments are qualified for automotive and industrial applications. ...
Big Deal in Power Semiconductor Industry...
A fast switching N-channel, enhancement-mode power MOSFET is cost-effective for low voltage applications....
AVX has released the FM Series medium power film capacitors, with dry, metallized polypropylene film dielectric....
The A6861 from Allegro MicroSystems Europe is a three-phase, N-channel power MOSFET driver IC....
MLS Flatpack aluminum electrolytic capacitors from Cornell Dubilier Electronics (CDE) now include two new options....
Six AEC-Q100-qualified gate drivers with propagation delays of less than 15ns have been announced by Texas Instruments....
Intersil has introduced the ISL8240M, a dual 20A/single 40A step-down power module that delivers up to 100W of output power....
Vishay Intertechnology has introduced a series of AEC-Q200-qualified, AC-line-rated ceramic disc safety capacitors. ...
Four NTC chip thermistors for high-accuracy temperature measurement have been released by Ametherm....