Features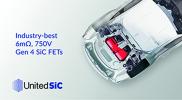 A New Approach to Circuit Breaker Design Using Silicon Carbide Switches - Nov 21
Mechanical circuit breakers can be low cost with minimal losses, but they operate slowly and wear out. Solid state versions overcome the problems and are becoming increasing viable as replacements at...
More details...
Power Electronics Europe News
Clock generators and multiplexers extend PCIe timing offerings
The 9FGU clock generator family delivers two, four, six or eight outputs and is offered with and without internal terminations, offering either flexible termination, or - to minimise board space - integrated terminations, for 100Ω transmission lines. They deliver less than 30mW and are pin-compatible with the company's 1.8V 9FGV PCIe G123 clock generator family.
The 1.5V 9DMU and pin-compatible 1.8V 9DMV clock multiplexers are two-input devices with either one or four outputs. They are offered with external terminations or integrated 100Ω terminations, and a choice of switchover modes. Switching modes can be asynchronous or synchronous.
All devices support PCIe Gen1, Gen2, and Gen3 phase jitter requirements and can be used in DSLR cameras, multi-function printers, solid state drives, vehicle infotainment systems, servers, micro-servers, set-top boxes and PCIe-based applications.
View PDF