Features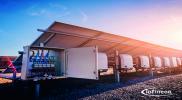 Benefits of CoolSiC MOSFETs in Bi-Directional Inverter Applications - July 2021
With the move to renewable energy, there is an increased focus not only on generation but also storage, to make the most of the intermittent supply from wind and solar. Batteries are the common...
More details...
Power Electronics Europe News
The XC9306 synchronous buck-boost converter is designed by Torex to prolong battery life. ...
Zener diodes with 500 mW of power dissipation are available from Vishay Intertechnology in a compact MicroSMF eSMP package. ...
Linear Technology has released the LT8609, 2A, 42V input synchronous step-down switching regulator. ...
Open stack power supplies from Glassman High Voltage feature low ripple, typically less than 0.1% peak to peak at full load....
Five buck-boost and boost switching regulators from Intersil are designed to optimise WiFi, 3G/4G RF power amplifiers....
A meter reference design from Maxim Integrated can extend the battery life of a utility meter to up to two decades....
Details of a consortium have been released ahead of an official launch at electronica next month....
IDT adds 1.5V clock generators and multiplexers to its PCIe family, claimed to reduce power and board space by up to 90%....
Designed to protect higher-wattage chargers for battery-powered electronic equipment, the 777 fuse is from Littelfuse....
The two companies have joined forces to co-develop GaN-based products....