Features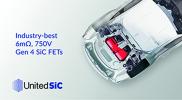 A New Approach to Circuit Breaker Design Using Silicon Carbide Switches - Nov 21
Mechanical circuit breakers can be low cost with minimal losses, but they operate slowly and wear out. Solid state versions overcome the problems and are becoming increasing viable as replacements at...
More details...
Power Electronics Europe News
Buck-boost and boost bypass switching regulators increase transient response
Five additions have been added to the ISL911xx family of buck-boost and boost switching regulators. It is optimised to support system power supplies and peripherals such as WiFi or 3G/4G RF power amplifiers, says Intersil.
The proprietary four-switch, buck-boost architecture extends battery life to deliver up to 96% and smooth transitions from buck to boost to prevent glitches and noise in smartphones, tablets and other single-cell Li-ion or Li-polymer battery systems.
The ISL9110x buck-boost regulator family works with the ultra-small inductors and capacitors to fit within less than 14mm2 board footprint, suitable for 2A switching converter solution for space-restricted mobile devices. The wafer-level CSP requires a single inductor and few external components and 2.5MHz switching frequency further reduce size requirements.
Models are the ISL91106 and ISL91107, with an input range of 1.8 to 5.5V and integrated 3.6A switches that deliver up to twice faster transient response than the closest competitor, claims the company. The ISL91106 also includes a selectable forced bypass function for sleep mode or an ultra-low-power mode that permits the system to stay alive with nearly zero quiescent current.
The ISL91132, ISL91133 and ISL91134 have a true bypass feature that can be used in any single cell application where the input voltage can vary from above or below the target output voltage. The ISL91132 (from 1.8A) and ISL91133 (from 2.3A) maintain the required output voltage for critical system functions when the input battery voltage is subject to large transients. The low no-load quiescent current significantly reduces standby power consumption. The ISL91134 (from 1.8A) regulator's soft-start ramp feature and boost to 5V, make it suitable for use with Class-D audio amplifiers. All three of the boost regulators can run in an auto-bypass mode or in forced bypass operation via a selection pin.
View PDF