Features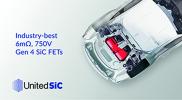 A New Approach to Circuit Breaker Design Using Silicon Carbide Switches - Nov 21
Mechanical circuit breakers can be low cost with minimal losses, but they operate slowly and wear out. Solid state versions overcome the problems and are becoming increasing viable as replacements at...
More details...
Power Electronics Europe News
DC power supplies have low ripple and noise
The air-insulated, fast response LH supplies comply with European Directives: EN61010/ IEC1010 (Safety); EN61000-6-4 (Conducted and Radiated Emissions); and EN61000-6-2:2005 (Conducted and Radiated Immunity). Remote control programing and monitoring is enabled via RS-232, USB or, optionally, Ethernet communications.
Patented air insulation technology allows the supplies to use air as the primary dielectric medium to minimise weight and servicing. The HV output is inhibited for a short period after each load arc to help extinguish the arc, and internal circuitry constantly senses and integrates arcs that occur over a given time. In the event of a load arcing, the power supply will cycle off, and then automatically restart.
Voltage regulation is better than 0.005% for allowable line and load variations. Current regulation is better than 0.1% from short circuit to rated voltage. Devices can be parallel, with one master supply and up to four slave supplies to provide 12 to 20kW depending on kV. Off-the-line pulse-width modulation provides high efficiency and reduces parts count. Automatic crossover from constant-voltage to constant-current regulation provides protection against overloads, arcs, and short circuits.
View PDF