Features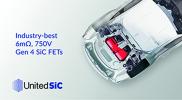 A New Approach to Circuit Breaker Design Using Silicon Carbide Switches - Nov 21
Mechanical circuit breakers can be low cost with minimal losses, but they operate slowly and wear out. Solid state versions overcome the problems and are becoming increasing viable as replacements at...
More details...
Power Electronics Europe News
EMC feed-through capacitors are for filtering
They have been developed specifically for EMC feed through filtering applications. Four styles are available, with rated voltages from 63 to 1500V DC; up to 660V AC and testing to Y class voltage withstand requirements. Operating with currents from 5A to 600A and with connections from M3 to M20, the company also offers sub-assembly and full filter assembly at highly competitive rates.
View PDF