Features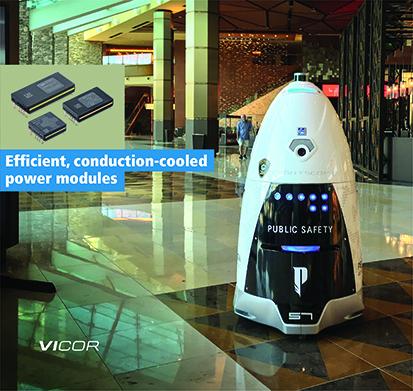 Knightscope's autonomous security robots patrol with superhuman acuity and detection prowess - May 2023
A fusion of innovative robotics, self-driving technology, vehicle electrification and artificial intelligence
More details...
AC/DC power factor correction module offers up to 1,512W
A full brick package developed by TDK-Lambda, the PF1500B-360, is for high voltage distributed power architectures
More details...
Power Electronics Europe News
Claimed to be the industry's first radiation-tolerant 36V instrumentation amplifier, the ISL70617SEH is from Intersil....
Single-chip RS-232/RS-485/RS-422 serial transceivers from Exar now include the XR34350, claimed to simplify designs....
Two, miniature power relays have four times the endurance of the standard G5Q relay, says Omron Electronic Components Europe....
Two secondary synchronous rectification controller ICs from Infineon meet energy efficiency in data centre standards....
A powdered-iron-based, WPC (Wireless Power Consortium) –compatible A11 type transmitter coil saves space, says Vishay....
The LGA80D DC/DC module offers one of the highest current density ratings in the industry, claims Artesyn....
Linear Technology introduces the LTM8003, a step-down DC/DC µModule regulator that operates at up to 150°C....
Two compact, isolated DC/DC converters from Dengrove Electronic Components deliver up to 10W from a 1.0 x 1.0inch footprint. ...
Two automotive motor drivers from Texas Instruments support high-performance powertrain applications. ...
Offering efficiency and power density for high current applications, Wolfspeed's all-SiC power module is in a 62mm module....