Features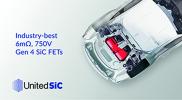 A New Approach to Circuit Breaker Design Using Silicon Carbide Switches - Nov 21
Mechanical circuit breakers can be low cost with minimal losses, but they operate slowly and wear out. Solid state versions overcome the problems and are becoming increasing viable as replacements at...
More details...
Power Electronics Europe News
Li-ion battery charger has low leakage to extend eCall battery life
To extend the life of lithium-ion (Li-ion) batteries in automotive emergency call (eCall) systems management, the ISL78692 is a 4.1V single-cell battery charger from Intersil. The battery charger dissipates lower leakage current (3µA) than competing solutions, claims the company, for longer periods between charging. Lower charging voltage also extends battery life and the small footprint reduces total size. The charger is designed to support emerging worldwide emergency call systems such as Europe's eCall initiative, which places a call to an emergency service automatically in the event of an accident. A similar system is OnStar, which provides a safety and security service in the US. The charger monitors the battery's temperature and operates on a low, 4.1V output. The levels of integration mean that only five external components are required to program the charging current. It is supplied in a 10pin, 3 x 3mm DFN package and has a charge current thermal foldback that prevents overheating by automatically reducing the battery charging current in a robust, small design.
View PDF